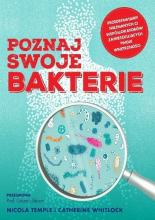 Author:
Nicola TEMPLE & Catherine WHITLOCK
Catherine Whitlock is a science writer with a BSc in Biological Sciences and a PhD in Immunology. She writes on science, medicine and nature and is based in Kent, England.
Nicola Temple worked as a conservation biologist before becoming a full-time writer, specialising in science and the environment. She has an MSc in Biological Sciences and lives in Bristol, England.
Glenn Gibson is Professor of Food Microbiology at the University of Reading and researches gut microbiology.
Meet Your Bacteria introduces you to all of your tiny tenants, and reveals the fascinating inner workings of your body, and the importance of these usually helpful (but sometimes harmful) microbes.
Highly topical and accessible, this book:
– Explores the different bacteria that live on and in various parts of your body (not just in the gut)
– Explains what they do, and why some are beneficial and some harmful
– Offers practical advice for promoting the good and inhibiting the bad bacteria
– Examines the latest thinking on good and bad dirt, and the links between bacteria and disease
Including in-depth profiles on each of the most important families of bacteria living in the human body, and helpful advice on how you can look after your own health through greater knowledge of your microbial friends, this is a wide-ranging introduction to the secret world inside your own body.