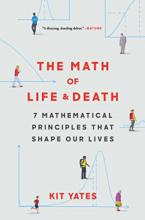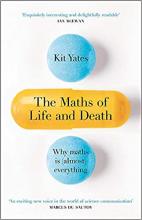 Original title:
The Math of Life and Death
Kit Yates is a Senior Lecturer in the Department of Mathematical Sciences and co-director of the Centre for Mathematical Biology at the University of Bath. He completed his PhD in mathematics at the University of Oxford in 2011. His research demonstrates that mathematics can be used to describe all sorts of real-world phenomena: from embryo formation to locust swarming and from sleeping sickness to egg-shell patterning. He is particularly interested in the role that randomness plays in biology. His research into mathematical biology has been covered by the BBC, "The Guardian", "The Telegraph", "The Daily Mail", RTE, "Scientific American" and Reuters amongst others. Alongside his academic position, Kit is also an author and science communicator. The Maths of Life and Death is his first book.
From birthdays to birth rates to how we perceive the passing of time, mathematical patterns shape our lives. But for those of us who left math behind in high school, the numbers and figures hurled at us as we go about our days can sometimes leave us scratching our heads and feeling as if we're fumbling through a mathematical minefield. In this eye-opening and extraordinarily accessible book, mathemati­cian Kit Yates illuminates hidden principles that can help us understand and navigate the chaotic and often opaque surfaces of our world.
In The Math of Life and Death, Yates takes us on a fascinating tour of everyday situations and grand-scale applications of mathematical concepts, including exponential growth and decay, optimization, statistics and probability, and number systems. Along the way he reveals the mathematical undersides of controversies over DNA testing, medical screening results, and historical events such as the Chernobyl disaster and the Amanda Knox trial. Readers will finish this book with an enlightened perspective on the news, the law, medicine, and history, and will be better equipped to make personal decisions and solve problems with math in mind, whether it's choosing the shortest checkout line at the grocery store or halting the spread of a deadly disease.