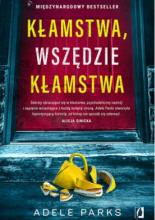 Polish title:
Kłamstwa, wszędzie kłamstwa
Adele Parks was born in Teesside, NE England. She studied English Language and Literature, at Leicester University. She published her first novel, Playing Away, in 2000; that year the "Evening Standard" identified Adele as one of London's Twenty Faces to Watch. Indeed Playing Away was the debut bestseller of 2000. Prolific, Adele has published nine novels in nine years and all nine of her novels have been bestsellers. She's sold over a million copies of her work in the UK but also sells throughout the world. Two of her novels are currently being developed as movie scripts. One was short listed for the Romantic Novelist Association Award 2008. She has written numerous articles and short stories for many magazines and newspapers and often appears on radio and TV talking about her work. Since 2006 Adele has been an official spokeswoman for World Book Day. Adele has spent her adult life in Italy, Botswana and London, up until two years ago when she moved to Guildford, where she now lives with her husband and son.
Daisy and Simon's marriage isn't what it seems… After years together, the arrival of longed-for daughter Millie sealed everything in place. They're a happy little family of three. So what if Simon drinks a bit too much sometimes—Daisy's used to it. She knows he's just letting off steam. Until one night at a party things spiral horribly out of control. And their happy little family of three will never be the same again. Here, "Sunday Times" #1 bestselling author Adele Parks explores the darkest corners of a relationship in free fall in a mesmerizing tale of marriage and secrets.