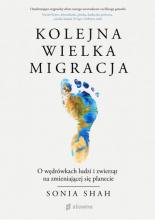 Original title:
The Next Great Migration: the Story of Movement on a Changing Planet
Polish title:
Kolejna wielka migracja: o wędrówkach ludzi i zwierząt na zmieniającej się planecie
Shah was born in 1969 in New York City to Indian immigrants. Growing up, she shuttled between the northeastern United States where her parents practiced medicine and Mumbai and Bangalore, India, where her extended working-class family lived, developing a life-long interest in inequality between and within societies. She holds a BA in journalism, philosophy, and neuroscience from Oberlin College, and lives with molecular ecologist Mark Bulmer and has two sons, Zakir and Kush.
The news today is full of stories of dislocated people on the move. Wild species, too, are escaping warming seas and desiccated lands, creeping, swimming, and flying in a mass exodus from their past habitats. News media presents this scrambling of the planet's migration as unprecedented, provoking fears of the spread of disease and conflict, inciting waves of anxiety across the planet. On both sides of the Atlantic, experts issue alarmed predictions of millions of invading aliens, unstoppable as an advancing tsunami, and anti-immigration leaders slam closed borders that were historically porous. But the science and history of migration in animals, plants, and humans tell a different story. New genetic techniques have revealed how deep into the past our story of migration runs. New navigational technologies have uncovered the scale and complexity of both human and wild movements around the globe. Far from being a disruptive behavior to be quelled at any cost, migration is an ancient and lifesaving response to environmental change, a biological imperative as natural as breathing. While the next great migration may not proceed fast enough to keep pace with our shifting climate, a growing body of evidence suggests that it may be our best shot at preserving biodiversity and resilient human societies.Migration, in other words, is not the crisis. It's the solution.