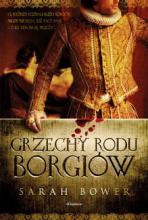 Original title:
Sins of the House of Borgia
Next editions:
XI.2012 (paperback)
V.2013 (paperback)
Sarah Bower is a prize-winning novelist and short story writer. Her first novel, The Needle in the Blood, was Susan Hill's Book of the year 2007, and was excerpted for a reading on BBC Radio 3's The Verb. Her second, Sins of the House of Borgia (originally published in the UK as The Book of Love) has been translated into nine languages and appeared on bestseller lists in Canada and Italy. Her short fiction has appeared in a number of magazines and anthologies, including QWF, The Yellow Room, Spiked, and two of her stories feature in editions of Unthology. She won the Café Writers Short Fiction Prize in 2005. She has also been commissioned to write short fiction for BBC Radio 4. Sarah holds an MA in Creative Writing from the University of East Anglia, where she was shortlisted for the Curtis Brown scholarship. She has taught creative writing at UEA, and currently teaches for the Open University and the Unthank School. She also works as a mentor to beginning novelists. She will be writer in residence at Lingnan University in Hong Kong in 2014. Sarah also works for the British Centre for Literary Translation, based at the UEA, where she helps to run the mentoring programme for emerging literary translators and a programme of masterclasses for Japanese to English literary translators. She is a firm believer in the desirability of bringing creative writers and literary translators into closer partnership and in raising awareness of literature in translation among Anglophone readers. She is currently writer in residence at Lingnan University in Hong Kong.
A Notorious Duke...
An Infamous Duchess...
An Innocent Girl...
Violante isn't supposed to be here, in one of the grandest courts of Renaissance Italy. She isn't supposed to be a lady-in-waiting to the beautiful Lucrezia Borgia. But the same secretive politics that pushed Lucrezia's father to the Vatican have landed Violante deep in a lavish landscape of passion and ambition. Violante discovers a Lucrezia unknown to those who see only a scheming harlot, and all the whispers about her brother, Cesare Borgia, never revealed the soul of the man who dances close with Violante. But those who enter the House of Borgia are never quite the same when they leave - if they leave at all. Violante's place in history will test her heart and leave her the guardian of dangerous secrets she must carry to the grave.