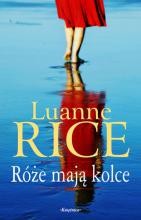 Luanne Rice is the author of thirty-one novels. Five of her books have been made into movies and mini-series, twenty-two have been consecutive "New York Times" bestsellers and two of her pieces have been featured in off-Broadway theatre productions. Born and raised in Connecticut, she divides her time between New York City and Southern California.
Few novelists today write with the power to move our hearts, quicken our souls, and enrich our lives like Luanne Rice. In "New York Times" bestsellers such as Dance with Me, Beach Girls, and The Secret Hour, she vividly captures the dramas that make all the difference in love and families. Now, revisiting the remarkable characters introduced in her bestselling Summer's Child, she brings full circle one of her most compelling explorations of the human heart…all the many ways it can be broken…and the magic that can make it whole again.
Their lives were a tapestry woven together by love and loss, tragedy and hope. On the windswept coast of Nova Scotia, Lily and her eight-year-old daughter, Rose, are struggling to embrace a new life even as Lily tries to let go of painful memories of the past. Among the lives that will touch theirs are those of Liam Neill, a dedicated teacher living in self-imposed isolation; Maeve Jameson, mourning the loss of a granddaughter she devoted her life to protecting; and Mark Murphy, a dogged police detective obsessed with a woman who vanished years ago – who may or may not have found what he seeks in a tiny, out-of-the-way maritime village. During this eventful summer of roses, the paths – and fates – of these unforgettable characters will intersect in ways that none of them could ever expect and shape a future none of them could possibly foresee. For each of them it will be a time of renewal and transformation that will circle inevitably to a past left behind, a mystery unsolved, and a love reclaimed. Summer of Roses is vintage Luanne Rice – a novel that celebrates the ties of family, the passion of lovers, and the deep, unbreakable bonds that hold us together through all the seasons of our lives.