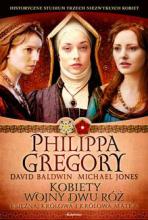 Author:
Philippa GREGORY
David BALDWIN
Michael JONES
Original title:
The Women of the Cousins' War – The Duchess, the Queen and the King's Mother
Polish title:
Kobiety Wojny Dwu Róż: księżna, królowa i królowa matka
Philippa Gregory is the author of several bestselling novels, including The Other Boleyn Girl, and is a recognized authority on women's history. She studied history at the University of Sussex and received a Ph.D. at the University of Edinburgh.
David Baldwin taught history at the Universities of Leicester and Nottingham for many years, and is the author of four books detailing the Wars of the Roses, including the acclaimed Elizabeth Woodville, Mother of the Princes in the Tower.
Michael Jones wrote his dissertation on the Beaufort family and taught at the University of South West England, the University of Glasgow, and Winchester College. He is the author of six books, including The King's Mother, which was shortlisted for the Whitfield Prize.
#1 New York Times bestselling author Philippa Gregory joins two eminent historians to explore the extraordinary true stories of three women largely forgotten by history: Jacquetta, Duchess of Bedford; Elizabeth Woodville, queen of England; and Margaret Beaufort, the founder of the Tudor dynasty. In her essay on Jacquetta, Philippa Gregory uses original documents, archaeology, and histories of myth and witchcraft to create the first-ever biography of the young duchess who survived two reigns and two wars to become the first lady at two rival courts. David Baldwin, established authority on the Wars of the Roses, tells the story of Elizabeth Woodville, the first commoner to marry a king of England for love. And Michael Jones, fellow of the Royal Historical Society, writes of Margaret Beaufort, the almost-unknown matriarch of the House of Tudor. Beautifully illustrated throughout with rare portraits and source materials, The Women of the Cousins' War offers fascinating insights into the inspirations behind Philippa Gregory's fiction and will appeal to all with an interest in this epic period.