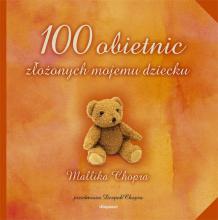 Polish title:
100 obietnic złożonych mojemu dziecku
Mallika Chopra (1972) grew up in Lincoln, Massachusetts, and graduated from Concord Academy, Brown University, and Kellogg School of Management. Mallika is the mother of Tara and Leela Mandal – she has written two books inspired by them: 100 Promises to My Baby and 100 Questions from My Child, and has served as a spokesperson for UNICEF, raising awareness for orphans affected by HIV and AIDS. Mallika helped launch the Heal The World Foundation with Michael Jackson, was part of the original team to re-launch MTV India, has produced two movies, The Seven Spiritual Laws of Success and How to Know God, based on books written by her father, author Deepak Chopra. Mallika Chopra is the founder of Intent.com, a website focused on personal, social and global wellness. Her intent is to harness the power of social media to connect people from around the world to improve their own lives, their communities and the planet.
As she eagerly awaited the birth of her first child, Mallika Chopra began to craft a unique gift that would express her profound loving commitment to the baby growing inside of her. 100 Promises to My Baby is that gift - one that reflects her deep awareness of the sacred responsibilities of parenthood. Here the author shares the vows she made to help her child - and all children - grow up feeling cherished and secure, look at the world with wonder and curiosity, and learn spiritual values that enrich life and contribute to making the world a better place. Accompanying the 100 promises... are short essays, reflections, poems, and stories that have inspired the author throughout her life - and that will inspire readers to think about their own lives, values, and beliefs, and what they would like to pass on to their children.