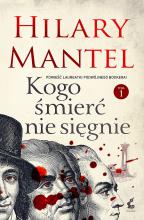 Original title:
A Place of Greater Safety
Hilary Mantel is the author of nine previous novels, including A Change of Climate, A Place of Greater Safety, and Eight Months on Ghazzah Street. She has also written a memoir, Giving Up the Ghost. Winner of the Hawthornden Prize, she reviews for The New York Times, The New York Review of Books, and the London Review of Books. She lives in England.
It is 1789, and three young provincials have come to Paris to make their way. Georges-Jacques Danton, an ambitious young lawyer, is energetic, pragmatic, debt-ridden - and hugely but erotically ugly. Maximilien Robespierre, also a lawyer, is slight, diligent, and terrified of violence. His dearest friend, Camille Desmoulins, is a conspirator and pamphleteer of genius. A charming gadfly, erratic and untrustworthy, bisexual and beautiful, Camille is obsessed by one woman and engaged to marry another, her daughter. In the swells of revolution, they each taste the addictive delights of power, and the price that must be paid for it.