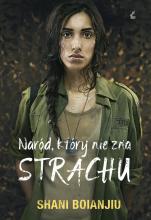 Original title:
People of Forever Are Not Afraid
Polish title:
Naród, który nie zna strachu
Shani Boianjiu was born in Jerusalem in 1987 and grew up in the Galilee. She served in the Israeli Defense Forces for two years. She graduated from Harvard in 2011. Her debut novel has been published or will soon be published in 23 countries. It has been longlisted for the UK's Women's Prize for Fiction and selected as one of the ten best fiction titles of 2012 by the Wall Street Journal. She is the youngest recipient ever of the National Book Foundation's "5 Under 35" award. Her writing has appeared in the New York Times, The New Yorker, Zoetrope, Vice, the Wall Street Journal, The Globe and Mail, Dazed and Confused, and the Guardian. She lives in Israel.
Yael, Avishag, and Lea grow up together in a tiny, dusty Israeli village, attending a high school made up of caravan classrooms, passing notes to each other to alleviate the universal boredom of teenage life. When they are conscripted into the army, their lives change in unpredictable ways, influencing the women they become and the friendship that they struggle to sustain. Yael trains marksmen and flirts with boys. Avishag stands guard, watching refugees throw themselves at barbed-wire fences. Lea, posted at a checkpoint, imagines the stories behind the familiar faces that pass by her day after day. They gossip about boys and whisper of an ever more violent world just beyond view. They drill, constantly, for a moment that may never come. They live inside that single, intense second just before danger erupts.
In a relentlessly energetic and arresting voice marked by humor and fierce intelligence, Shani Boianjiu, winner of the National Book Foundation's "5 Under 35," creates an unforgettably intense world, capturing that unique time in a young woman's life when a single moment can change everything.