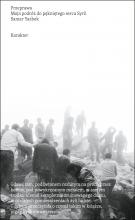 Original title:
The Crossing: My Journey to the Shattered Heart of Syria
Polish title:
Przeprawa: Moja podróż do pękniętego serca Syrii
Samar Yazbek was well-known in her native Syria as a writer and a journalist but, in 2011, she fell foul of the Assad regime and was forced to flee. Since then, determined to bear witness to the suffering of her people, she bravely revisited her homeland by squeezing through a hole in the fence on the Turkish border. In The Crossing, she testifies to the appalling reality that is Syria today. From the first innocent demonstrations for democracy, through the beginnings of the Free Syrian Army, to the arrival of ISIS, she offers remarkable snapshots of soldiers, children, and ordinary men and women simply trying to stay alive. Some of these stories are of hardship and brutality that is hard to bear, but she also gives testimony to touches of humanity along the way: how people live under the gaze of a sniper, how principled young men try to resist orders from their military superiors, how children cope in bunkers... Yazbek's portraits of life in Syria are very real, and her prose, luminous. The Crossing is undoubtedly both an important historical document and a work of literature.
Samar Yazbek was born in Jableh city in 1970. She studied literature before beginning her career as a journalist and scriptwriter for Syrian television and cinema. She wrote many scripts for movies and TV series while working in the Syrian state TV, and she produced and presented the show of "Library Story" in 2008. She also worked in Al-Hayat newspaper for 10 years, and published in many Syrian and Arab newspapers. She published her first stories collection in 1999 and since then she has published four novels and three books. Her translated work includes the novel Cinnamon; she is also the author of A Woman in the Crossfire, translated into five languages. She co-founded in 2012 "Women NOW" development organization that is concerned with educational and economical empowerment of women and children.