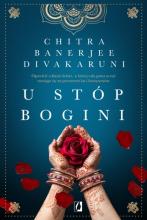 Author:
Chitra Banerjee DIVAKARUNI
Original title:
Before We Visit the Goddess
Chitra Banerjee Divakaruni, born in 1956, is an award-winning and bestselling author, poet, activist and teacher of writing. Her work has been published in over 50 magazines, including the Atlantic Monthly and The New Yorker, and her writing has been included in over 50 anthologies, including The Best American Short Stories, the O. Henry Prize Stories and the Pushcart Prize Anthology. Her books have been translated into 29 languages, including Dutch, Hebrew, Bengali, Russian and Japanese, and many of them have been used for campus-wide and city-wide reads. Several of her works have been made into films and plays. She lives in Houston with her husband Murthy and has two sons, Anand and Abhay, who are in college.
The daughter of a poor sweet-maker in rural Bengal, India, Sabitri yearns to get an education. However, her family's situation makes college an impossible dream. Then an influential woman from Kolkata takes Sabitri under her wing, but her generosity curdles after a single, unforgiveable misstep. Years later, Sabitri's daughter, Bela, haunted by her mother's choices, flees to America with her political refugee lover, only to find the country—and love—vastly different from her imaginings. Forced to forge her own path, Bela unwittingly imprints her own child, Tara, with dangerous lessons about adulthood that will take a lifetime to unlearn.