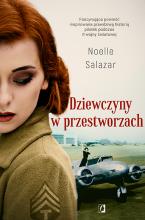 Polish title:
Dziewczyny w przestworzach
Noelle Salazar is a lifelong resident of the Pacific Northwest and a lifelong storyteller. In 2011, Noelle discovered a book about the Women Airforce Service Pilots (WASP) of World War II, which set off six years of research into the program, the women who were part of it, and what their service meant to their country. She has met and interviewed some of the last living WASPs as well as their family members, and visited the training facility – now a museum dedicated to the WASP – in Sweetwater, Texas. Her debut novel, The Flight Girls, shines a light on this little-known piece of history.
Inspired by the real team of female pilots who trained World War II soldiers, a stunning debut novel about friendship and its power to make us soar. Audrey Coltrane has always wanted to fly. It is why she implored her father to teach her at the little airfield back home in Texas. It is why she signed up to train military pilots in Hawaii when the war in Europe began. And it is why she insists she is not interested in any dream-derailing romantic involvements, even with the disarming Lieutenant James Hart, who fast becomes a friend as dear as the women she flies with. Then one fateful day, she gets caught in the air over Pearl Harbour just as the bombs begin to fall, and suddenly, nowhere feels safe. Following the attack, Audrey struggles to reconcile her devastating losses – colleagues, friends, and the piece of her heart she left in the air. She seizes the opportunity to join the Women's Airforce Service Pilots, hoping to make everything she's lost count for something. The fast friendships she forms with her fellow WASP women reignites a spark of hope in the face of a war that moves closer to home every day. When James goes missing in action, those bonds help her summon the courage to cross the front lines and give her the faith that they will return home – together.