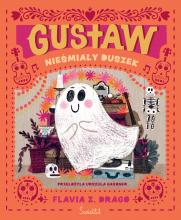 Publisher:
Wydawnictwo Kobiece - Świetlik
Flavia Z. Drago was born and raised in Mexico City. As a child, she wanted to be a mermaid. When that didn't happen, she began her career as a graphic designer and a children's book illustrator. She has an MA in Children's Book Illustration from Cambridge School of Art and was shortlisted for the 2018 Sebastian Walker Award. She loves colours, textures, and shapes and enjoys creating them with different materials and a bit of digital sorcery. She lives between the UK and Mexico. Find her online at flaviazdrago.com, on Twitter as @Diafla and on Instagram as @flavia_zdrago.
Gustavo is a ghost. He is good at doing all sorts of paranormal things, like walking through walls, making objects fly and glowing in the dark. And he loves playing beautiful music on his violin. But Gustavo also has a problem. He is SHY. Which means some things are harder for him to do, like getting in a line to buy eye-scream or talking to the other monsters. But Gustavo longs to be a part of something, he longs to be seen. More than anything, he wants to make a friend. So, plucking up all his courage, he sends a very special letter: "Dear Monsters, I would like to invite you to my violin concert at the Day of the Dead party…" With exquisite detail and visual humour, Flavia Z. Drago's vivid illustrations tell a sweet and offbeat story of belonging, bravery and friendship that is sure to be a treat for little ghouls and goblins everywhere.