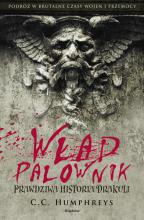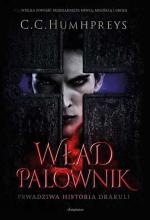 Original title:
Vlad: The Last Confession
Polish title:
Wład Palownik – prawdziwa historia Drakuli
1st edition:
IX.2009 (paperback - gray)
Next editions:
X.2009 (paperback - grey)
III.2012 (paperback - black)
C.C. Humphreys was born in Toronto, Canada, and grew up in Los Angeles and London. A third generation actor and writer on both sides of his family, he returned to Canada in the nineties and there his writing career began. He won the inaugural playwriting competition of the New Play Centre, Vancouver with his first play, A Cage Without Bars which was produced in Vancouver and London. He was a schoolboy fencing champion, became a fight choreographer and thus turned his love of swashbuckling towards historical fiction. He is married and lives in Finchley, North London.
Dracula. A name of horror, depravity and the darkest sensuality. Yet the real Dracula was just as alluring, just as terrifying, his tale not one of a monster but of a man… and a contradiction. For the one they called The Devil's Son was both tyrant and lawgiver, crusader and mass slaughterer, torturer and hero, lover and murderer. His tale is told by those who knew him best. The only woman he ever loved and who he has to… sacrifice. His closest comrade… and traitor. And his priest, betraying the secrets of the confessional to reveal the mind of the man history would forever remember as Tepes – The Impaler. But Vlad's actions defy such labels. Like the comet that scorched Wallachian skies the summer he took and held his father's throne, his extraordinary life burns with passion, taking him from his years as hostage to the Turk, through torture, battle, triumph and betrayal, ultimately to a last crusade – and there perhaps, beneath the twin banners of the Dragon and the Cross, to find redemption for his… innumerable sins.
Vlad: The Last Confession spins legend and facts and together into a monumental novel of blood, love and terror. This is the true story of Dracula … as it has never been told before.