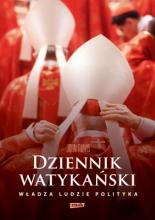 Original title:
The Vatican Diaries: A Behind-the-Scenes Look at the Power, Personalities and Politics at the Heart of the Catholic Church
Polish title:
Dziennik watykański. Władza, ludzie, polityka
Publisher:
Społeczny Instytut Wydawniczy ZNAK
John Thavis is a journalist, author and speaker specializing in Vatican and religious affairs. Thavis grew up in Minnesota, attending Catholic schools and graduating from St. John's University in 1973. After studying classical languages, he went to Italy as a student of archeology in 1977, fell in love with the country and decided to stay. In 1978 he was hired as a headline writer for the Rome Daily American and eventually became news editor there. The same year he witnessed two papal conclaves, culminating in the election of an intriguing foreigner, Karol Wojtyła. He returned to Minnesota in 1979, working as a reporter and then news editor of the Mankato Free Press, a daily paper in his home town. In 1982 he convinced his wife, Lauren O'Connell, to relocate to Italy. They landed in Rome with meager savings and a suitcase, the beginning of a 30-year Italian adventure. He wrote a guide book to Rome and worked part-time for Associated Press, ABC News and the Wine Spectator. In 1983 he took a reporting job with Catholic News Service and began covering the Vatican daily. It was a fascinating beat, in Rome and abroad. He traveled with Pope John Paul II and Pope Benedict XVI to more than 60 countries, and reported on other religious stories from Europe, the Middle East and Africa. He became CNS Rome bureau chief in 1996, and served three years as president of the Association of International Journalists Accredited to the Vatican -- the only American ever elected to that position. He has won numerous journalistic awards and has lectured on Vatican affairs in the United States and Europe. In 2012 Thavis retired from his CNS position to devote full time to writing, and moved back to the United States. His book, The Vatican Diaries, immediately became a New York Times best-seller. He did live commentary for ABC News in Rome during the conclave of 2013, and on his blog the day before the conclave began he singled out Argentine Cardinal Jorge Bergoglio as the candidate to watch. He travels frequently to Rome and continues to cover Vatican affairs. His other interests include Italian cooking, fine wine, blues guitar, songwriting, baseball and the letters of Cicero. John and Lauren's three children were born and raised in Rome. Their two sons are studying in Minnesota, and their daughter is a blues singer in St. Paul.
The Vatican is typically viewed as a monolithic power structure that pursues a global agenda with a unified sense of mission. John Thavis, who covered the Vatican beat for 30 years, knows that the reality is far different. It's a place where Curia cardinals fight private wars, where leaks are common, where sex scandals simmer and where, increasingly, popes are embarrassed by their own missteps and the incompetence of their top aides. The Vatican Diaries pulls back the curtain on this surreal world. In ten chapters, it takes readers behind the scenes to meet the people who make things happen or screw things up. On several notorious issues - a religious order headed by a pedophile priest, a papal butler who smuggles documents to a reporter, the pope's rehabilitation of a Holocaust-denying bishop - the book answers the question: "What were they thinking?". The book's cast of characters includes little-known figures who are part of the daily Vatican drama: an archeologist battling a cardinal's parking lot, a Vatican spokesman waging an uphill battle for transparency, a papal preacher whose gaffes upstage the pope, a Jesuit who pulls every string to make Pius XII a saint. A final chapter, The Real Benedict, describes journalists' frustrating and failed attempts to pin a persona on the enigmatic German pope. This mosaic of true stories brings the Vatican to life. What emerges is a portrait of an institution brought repeatedly to the brink of crisis as it struggles to come to terms with the modern world.